A Netanya rimase incantato da quei due italiani che conquistavano metri e applausi a ogni bracciata. "Dopo i Giochi Europei di Baku, e il bronzo nei 1500 di Marc Hinawi, cercavo un Paese straniero per uno stage con atleti d'élite per arrivare agli standard olimpici" racconta a Swimbiz.it il tecnico israeliano Meir Loya. Quel record mondiale di Gregorio Paltrinieri, seguito da un superbo Gabriele Detti, fu come una rivelazione. Meir si presentò a Stefano Morini, allenatore dei due azzurri, che subito si rese disponibile per uno stage al Centro Federale di Ostia. "La Fin e 'Moro' ci hanno accolti con affetto e calore". All'inizio del training camp, il duo israeliano rimase stupito "Dalla mole di lavoro e dalle prestazioni degli italiani – ma dopo Ostia e i collegiali in Messico e a Miami – ho imparato che il corpo umano può adattarsi a questi carichi. Ma il vostro vero punto di forza è la qualità. Ed è straordinario che i migliori mezzofondisti italiani si allenino insieme, con un coach specializzato". Tra Marc, Meir e il gruppo azzurro si è instaurato un forte legame "Abbiamo mentalità e temperamento simili per cooperare in ogni campo. Specie nel nuoto". E non vuole scordare davvero nessuno nei suoi ringraziamenti "La Federazione, col Presidente Paolo Barelli, e poi Mr Roberto Del Bianco, Mr Marco Bonifazi, Mr Cesare Butini, Mr Walter Bolognani, Mrs Simona Spurio Schiavoni, Mr Fabrizio Ghitti. Gli allenatori, Mr Stefano Morini e Mr Christan Galenda. E poi, ovviamente, gli atleti Gregorio Paltrinieri, Gabriele Detti, Nicolangelo Di Fabio, Diletta Carli, Martina Caramignoli, Stefania Pirozzi e Ilaria Cusinato"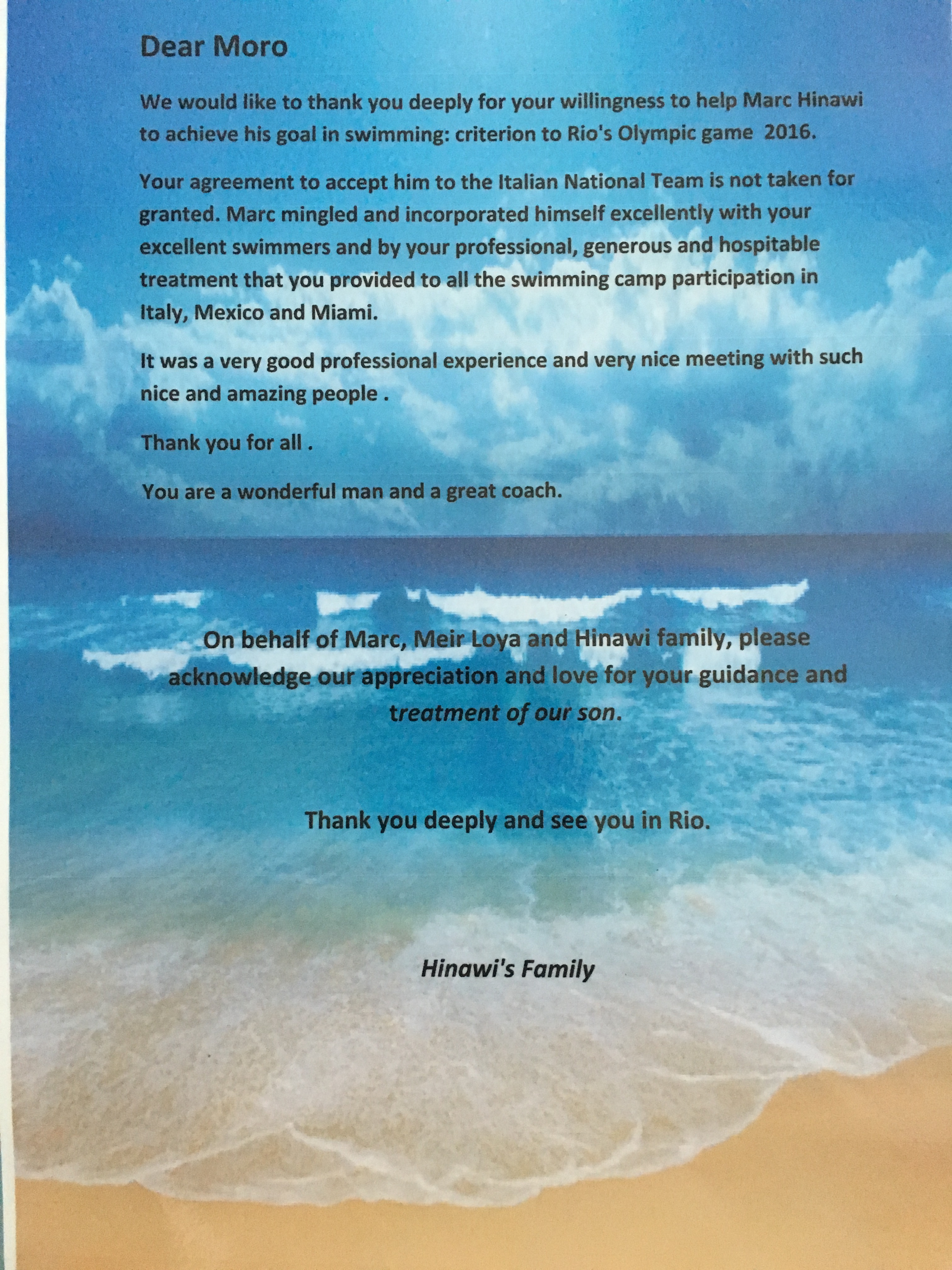 Un'empatia quasi spirituale, in fondo anche la religione può influenzare la vita di uno sportivo "Marc è cristiano, si fa il segno della croce prima di entrare in acqua – e alcuni valori del giudaismo si ritrovano nello sport - pensiero positivo, fiducia in se' stessi, comportamento retto, determinazione. Ma anche il lavoro duro e professionale e il talento". Ma ogni atleta può essere influenzato dalla sua religione o dalle sue usanze, come il brasiliano Felipe França che usa il blocco come altare per una preghiera pre gara(leggi qui) "Da noi c'è chi scrive e affida una preghiera al Muro del Pianto di Gerusalemme, o va in una sinagoga, o bacia la mezuzah (pergamena della Torah n.d.r.) prima di entrare in piscina. Altri si limitano a una preghiera mentale".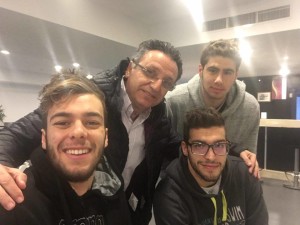 Ma Marc Hinawi potrebbe diventare un rivale per gli azzurri da qui a quattro anni? "Ora pensiamo a qualificarci per Rio, poi penseremo al prossimo passo". Di certo, dopo aver visto di persona Gregorio Paltrinieri in allenamento "So che il mix tra bontà e disponibilità, doti fisiologiche e di allenamento, più l'abilità di esplodere al momento giusto lo porteranno alle vette più alte. Visto il tempo speso insieme, forse non sarò oggettivo, ma sono il fan numero 1 di Paltrinieri. E Sun Yang deve fare attenzione…".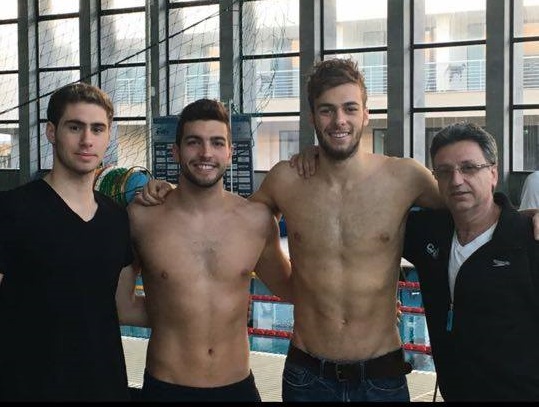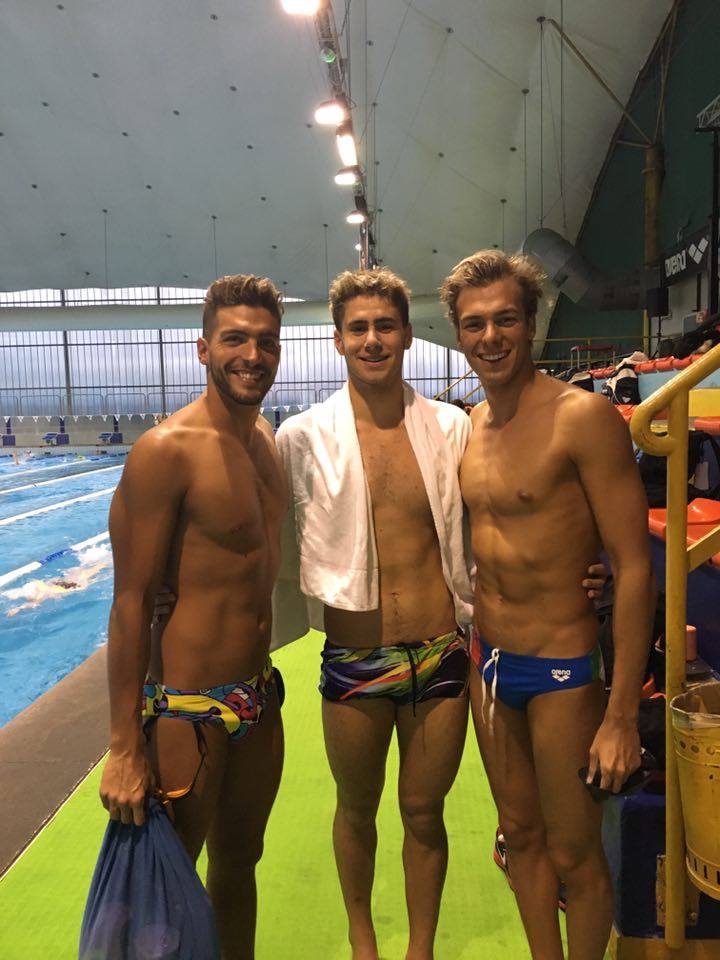 Dear Moro, dear Italy…
(ENGLISH VERSION) A Swimbiz.it interview to Meir Loya, Israelian coach who joined with swimmer Marc Hinawi months of training camps with world record holder Gregorio Paltrinieri and Italian top long distance coach Stefano Morini.
During Netanya European Championships, he was impressed by those two Italians who gained metres and acclaims at each stroke. "After Baku European Games, and Marc Hinawi's bronze in 1500 freestyle, I was looking for a foreign country to give him the chance of a stage where he could train with top swimmers, in order to reach Olympic ciriterion"  Israelian coach Meir Loya tells Swimbiz.it. Gregorio Paltrinieri's world record, and the second place of an amazing Gabriele Detti, was like a revelation. Meir met with their coach, Stefano Morini, who agreed to join Marc in a swimming camp in Ostia during 3 weeks.  "Italian Swimming Federation and 'Moro' accepted us with love and warms". In the beginning "We were shocked when we saw the workouts and the performance of the Italian swimmers – but after the training camps in Ostia, Messico and Miami – I learned that the human body can adapt this hard workouts. But the main emphasis is the quality of the performance. The fact that the élite long distance swimmers of the country train together at the same place with a very professional coach in this distance is great". Marc, Meir and the Italian group created a good friendship "I think that the Italian mentality and the Israeli mentality are very similar. Also the human  temperament. We have all of the conditions to succeed and to cooperate in any field, especially in swimming professional cooperation". And he really wants to forget no one in his greetings "The Italian Swimming Federation, with President Paolo Barelli, and Mr Roberto Del Bianco, Mr Marco Bonifazi, Mr Cesare Butini, Mr Walter Bolognani, Mrs Simona Spurio Schiavoni, Mr Fabrizio Ghitti. Coaches Mr Stefano Morini e Mr Christan Galenda. And than, of course, swimmers Gregorio Paltrinieri, Gabriele Detti, Nicolangelo Di Fabio, Diletta Carli, Martina Caramignoli, Stefania Pirozzi e Ilaria Cusinato"
An almost spiritual empaty. Indeed, even religion may influence a sportsman's life "Marc is a Christian and before every start on the blocs he crosses himself twice – some values of Judaism may be found in sport too - positive thinking ,self-belief, being a good person and never giving up. But also hard and professional work, and talent". However, every swimmer may be influenced by his own religion or customs, such as Brazilian Felipe França who uses starting bloc as an altar, praying before races "In Israel, some some go to the western wall in Jerusalem to put a scrap of paper in the wall and make a wish, or go to a synagogue, or kiss the mezuzah before entering the swimming pool . Some other, simply, make a request in their mind".
Will Marc Hinawi become a competitor for Italian swimmers at Tokyo 2020 Olympics? "First of all, Marc has to make the criterion for Rio 2016. After that, we will think about the next step". Surely, after Meir saw  closely how Gregorio Paltrinieri trains "I believe that the combination of kindness, amazing physiological capabilities, training capabilities and the ability to explode at the right moment will lead him to higher places. After the time spent together, I may not be so objective, but the meeting with this amazing person and swimmer has made me the number one fan  of Gregorio Paltrinieri. And Sun Yang has to be worry…".